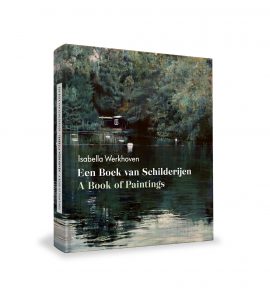 News article in English for non-Dutch visitors who wish to order A Book of Paintings from outside the Netherlands
The form below enables inhabitants from countries outside the Netherlands to order my new book (NL-ENG) A Book of Paintings too. After you've fully submitted the form you will be able to pay safely with several payment methods like: SOFORT Banking, Bancontact, Giropay, KBC/CBC Payment Button or PayPal.
Three different editions
The book (NL/ENG) is a 24 x 28 cm hardback of 160 pages with 140 images full colour and essays of 5 different authors. It provides an overview of 16 years of work, a fine selection of paintings. Once you pre-order it, you contribute to its production. It is in the shops from end April. In the payment environment you can select the suitable shipping method.
As you can see, there are three different editions, from which the two limited ones will only be available when ordered from this website. They won't be in the shops, unlike the regular edition. If you want to have a closer look at the 5 different giclees (piezography prints) that go with the DeLUXE Limited Edition of 50 in total, you can do it right here. You can also watch the video about the story on the book and the studio of Isabella (in Dutch but with subtitles) on YouTube.
Update January 2022: Regular Hardback Edition out of stock in Groningen: you can still order this edition via Waanders Publishers
ORdER Form
---
---
Any questions?
Should you have any questions considering the book or your order please contact me by mail